Welcome to
Island Manor Resort
Nestled 12 miles off the coast of Rhode Island surrounded by natural beauty, the beach-inspired Island Manor Resort on Block Island offers a tranquil base which is a short walking distance from the ferry, beaches, boutiques, and dining. Whether you have small children and want a memorable family vacation or need a place to relax, read a book and smell the ocean, memories made at our beach resort are unforgettable.
Awards & Recognitions
Here at Island Manor Resort, we do what we do because we love creating the perfect environment for happy holidays.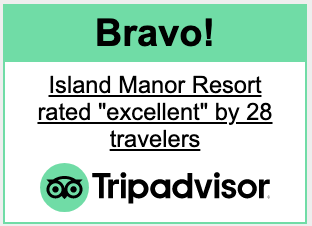 Our Units
Everything You Need for an Amazing Stay
The Island Manor Resort features both Studio and One Bedroom suites with fully equipped kitchens. Studio units at this resort can sleep 4, while 1-bedroom units sleep 6.
Resort Features
We are your getaway destination!
Picnic Area
Fire Pit
Children's Playground
Gas & Charcoal Barbecue Grills
Open-air Bike Racks
Coin-Operated Laundry
Secure WiFi Access in the Guest's Lounge
Lounge Area with Movies, Books & Board Games
Area Attractions (Walking Distance to Town)
Reviews
What Our Guests are Saying...
Peaceful.
We chose this island resort because it was off-season and we wanted a peaceful place for a few weeks. It met our needs completely. The staff, Sheila and Jeff, were the finest of hosts. We will return again.
This reviewer gave five stars
Posted on tripadvisor.com
Excellent getaway.
Excellent getaway. Some shops were not open yet as it was still off season. The island is beautiful and people are polite. The resort staff was great. The only surprise was the ferry, you really need a reservation if you are driving as it was not convenient getting In touch with the ferry company.
This reviewer gave fours stars
Posted on tripadvisor.com
Great location!
The resort is located within walking distance to stores, restaurants, and the port for the ferry trip. Of noteworthy interest is the Historical Society Museum, half a block away. Well worth the time to learn of the island's history through two floors and fascinating exhibits. For vacationers, in the warm weather, there are barbecue grills, a fire-pit, and playground equipment. Though the studio unit is small it has ample kitchen supplies, even an oven!
This reviewer gave five stars
Posted on tripadvisor.com